Tuesday, April 15 2003
Phantasy Star Online Xbox
Posted by Segaholic2 at 3:50 PM CT
Sonic Team's Phantasy Star Online Episodes I & II for Xbox is supposed to start shipping today, 4.15.03, after numerous delays. Which those of you who pre-ordered should be receiving it tomorrow.

Remember kiddies, Xbox Live is required to play online or off. And just as a reminder, be sure to pick up your "free" (as in $6.95US for shipping) PSO USB keyboard adapter right here.
Sonic X Downloads
Posted by big_smile at 11:55 AM CT
The fan group teamARTAIL have release a fan-subtitled version of the first episode of Sonic X. The 156 MB DivX encoded file can be download here and on the newsgroup, alt.binaries.anime

The second episode of Sonic X is available in Real Media format and can be downloaded here (An FTP program is required).
Monday, April 14 2003
Magazine ad with Hatcher screens.
Posted by ProjectBlueGale at 9:57 PM CT
It's nice. Trust me.

http://www.eden.rutgers.edu/~tfahs/billy_hatcher_.jpg
E-commerce site reveals new modes in Sonic Pinball Party
Posted by big_smile at 11:39 AM CT
The Japanese e-commerce site, M-Land , has launched two new pages for Sonic Pinball Party and Sonic Adventure DX.
According to the Pinball Party page the game will feature two new modes: Chao Garden and Casino mode.

The web site also contains the following Japanese poster images: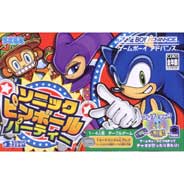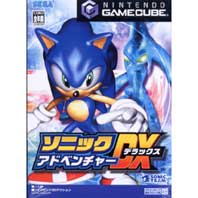 Source:
http://www.m-land.co.jp/
Billy Hatcher and the Giant Egg
Posted by ProjectBlueGale at 9:08 AM CT
If you remember that leaked Sega list of games that will be shown at E3, two of the Gamecube titles were "Sonic Hero" and "Giant Egg". Well, Giant Egg's full title is "Billy Hatcher and the Giant Egg" Here's the press release:

FOR IMMEDIATE RELEASE

SEGA UNVEILS "BILLY

HATCHER AND THE GIANT EGG" FROM THE CREATOR OF SONIC THE HEDGEHOG

SAN FRANCISCO - (April 14, 2003) - SEGA® of America, Inc. today announced "Billy Hatcher and the Giant EggTM," a new platform game exclusively for the Nintendo GameCubeTM. "Billy Hatcher and the Giant Egg" is currently in development under the direction of SEGA's renowned Yuji Naka, the creator of SEGA's world-famous Sonic The Hedgehog® series.

The first all-new platform game and character from Yuji Naka and SONICTEAMTM since the SEGA SaturnTM era, "Billy Hatcher and the Giant Egg" is the story of a young boy who must save a once magical kingdom from the clutches an evil King who threatens to rule with an everlasting night. Gamers must learn to use the powers of a legendary suit and control magical eggs to restore light to the kingdom.

A vibrant, lightning-fast 3-D platformer, "Billy Hatcher and the Giant Egg" challenges gamers to hatch dozens of magical creatures from special eggs as they explore themed, carnival-esque environments on their quest to save the kingdom. Playing as Billy Hatcher, players will roll the eggs though the world, using them to solve puzzles, fight enemies, and even ultimately hatch magical creatures that enhance their abilities, adding a unique strategic twist to the fast action.

"'Billy Hatcher and the Giant Egg' is pure SONICTEAM magic," said Mike Fischer, vice president of marketing, SEGA of America, Inc. "A dizzying blend of fast action, hypnotic gameplay and one-of-a-kind characters, 'Billy Hatcher and the Giant Egg' is, without a doubt, the next big thing from the legendary SONICTEAM."

"Billy Hatcher and the Giant Egg" is slated for release in the U.S. in Fall 2003.

Souce: http://www.gamers.com/news/1340554
Sunday, April 13 2003
Sonic Adventure DX Directors Cut Press Release
Posted by big_smile at 2:57 PM CT
Sega of America have released a new 'Sonic Adventure DX: Directors Cut' press release. The one page PDF document, quoted below, confirms certain elements of the game including the number of Game Gear titles and GBA link up features:

SONIC ADVENTURE™ DX DIRECTOR'S CUT
Platform: Nintendo GameCube™
Category: Action
Ship: May 2003
Sonic The Hedgehog ® returns in one of his most popular blockbusters in a special "Director's
Cut" edition for the Nintendo GameCube!
The original "Sonic Adventure" returns with a "Director's Cut" edition, complete with enhanced
graphics and more than 5 hours of new gameplay for the Nintendo GamCube. "Sonic Adventure
DX Director's Cut" includes an all-new Mission Mode featuring more than 50 missions for
gamers to discover. Sonic fans will be able to explore new hidden areas throughout the game -
adding a whole new twist to the original.
It's up to Sonic and his pals to save the world from the evil Dr. Eggman, who has returned to
once again try his hand at world domination. The evil Doctor's scheme is to steal the seven
Chaos Emeralds and raise the all-powerful Chaos monster to do his bidding. Entangled in the
plot of the sinister Dr. Eggman, Sonic must enlist the help of his friends Amy, Tails, Knuckles
and Big to foil Eggman's every move.
Features:
•New graphically enhanced 3D world harnesses the power of the Nintendo GameCube
•Six playable characters each with his/her own skills and abilities
•Fifty massive levels, over-the-top boss battles and mini-games featuring the one-of-a-kind
Chao AI characters
•"Sonic Adventure DX Director's Cut" links to "Sonic Pinball Party ™ ," "Sonic Advance™"
and "Sonic Advance 2" via the Nintendo Game Boy Advance/GameCube link cable for
endless on-the-go Chao raising fun.
•All new mission mode with 60 mini-missions, allowing gamers to collect exclusive
itemsUnlockable secrets, including 12 hidden classic SEGA Game Gear titles

Source:
http://score.sega.com/games/sonicDX/SonicDX_Onesheet.pdf
Friday, April 11 2003
Xbox PSO to support Keyboard.
Posted by ProjectBlueGale at 11:29 PM CT
Article taken from Gamerfeed.com

((Our XGU partners over at Team Xbox have discovered that Phantasy Star Online Episode I & II will indeed support the use of a keyboard in addition to voice communication. Better yet, a link on Xbox.com will allow you to get a free Phantasy Star Online USB keyboard adapter very soon! The folks at TXB received a flyer (along with their copy of PSO) today, which said:

"The Phantasy Star Online Episode I & II USB Keyboard Adapter for your Xbox system is available for free plus shipping and handling ($6.95USD) at http://www.xbox.com/pso2/keyboardadapter.htm.

The Phantasy Star Online Episode I & II USB Keyboard Adapter for Xbox allows you to connect a USB-enabled keyboard to an Xbox Controller. It is for use exclusively with Phantasy Star Online Episode I & II on the Xbox video game system from Microsoft.

Available in the 50 United States, DC and Canada only.

Offer expires 12/31/2004"

PSO is scheduled to ship on April 15th for the Xbox. If you never played the game on Sega's Dreamcast, be warned that it can be very addicting. This marks the first online roleplaying game available on Xbox. Phantasy Star Online Episode I & II will feature all-new gaming modes and new content. New character classes, weapons, enemies, items, and quests are only a portion of the new content awaiting discovery. Just to clarify, Episode I includes all of the content from the original PSO and Phantasy Star Online Ver. 2, while Episode II brings a new, full-length adventure.

Obviously, an Xbox Live account is required to play Phantasy Star Online Episode I & II. However, you must also buy a "Hunter's License", which will allow you to play the game and will provide access to a plethora of online exclusive content, such as seasonal quests, downloads, and rare, in-game items. The Hunter's License is free of charge for the first two months and, after that, will carry a service fee of $8.95 per month.))

Looks like I need to buy an Xbox again...

Thursday, April 10 2003
Naka to write special message in Sonic issue #125
Posted by ProjectBlueGale at 6:00 PM CT
Yuji Naka will be submitting a special letter that is to be printed in Archie's 125th issue of Sonic the Hedgehog. I suppose this means he does know the comics exist.

...

Yay?

Source: Sonic the Hedgehog issue 122.
Monday, March 31 2003
Sonic X Trailer Online
Posted by Pepperidge at 6:05 PM CT
TV Tokyo has put a trailer for the new Sonic X animated series on their website.
Tuesday, March 25 2003
10 Game Gear Titles Confirmed for Sonic Adventure DX
Posted by Pepperidge at 8:14 PM CT
Ten Sonic Game Gear titles have been confirmed to be included as a bonus feature in the upcoming GameCube port Sonic Adventure DX. The titles are:

Sonic The Hedgehog
Sonic The Hedgehog 2
Sonic & Tails
Sonic & Tails 2
Sonic Labyrinth
Sonic Drift
Sonic Drift 2
G-Sonic
Tails Sky Patrol
Tails Adventures

As terrible as G-Sonic was, it's nice to see that Sonic Team didn't short change us this time. Everything is there, excluding the Game Gear ports of Spinball and Mean Bean Machine. This will also be the first time that Sonic Drift or Tails' Skypatrol will be released in any form outside of Japan.

Source: The Magicbox
Archives